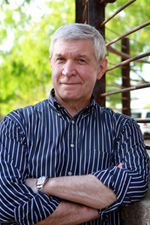 I'm Rick Barlow. Stories of personal change and reinvention fascinate and excite me. So I've decided to make a place where I can collect, explore, and share these stories, and offer information to people who want to reinvent their lives.
I don't want to preach or evangelize. The world doesn't need another self-help blog with daily lists of self-improvement tips. Plus, I will avoid entirely the subjects of health and finance, which are more than amply covered elsewhere. The Rest of Your Life is meant to be a place to kick around ideas about how to make the most of life, especially after having already lived a good chunk of it.
In case you're interested in a little bit more about me…
I'm a midwesterner. I grew up, went to school, raised a family, earned a living, built and sold a business, and even produced (with my son) a little indie feature film in the midwest. Now I live in Arizona, loving every sunny day. My wife and I met in high school. We have 2 grown children and one grandchild. Life has been good to me. It has often felt like an adventure. I'd like to think there is more adventure to come, which is why I'm drawn to these stories of personal reinvention.
I've organized this site according to types of personal change, sorted into 9 categories or "Zones." The zones can't help overlapping, but that shouldn't cause too much confusion. I've also included a Book Store to feature books relevant to topics covered here, a Tool Store to offer other products and services you might find helpful, and a Library where I will build a collection of links to other sources of information relevant to personal reinvention.
It's all a work in progress. I'll adjust as adjustments are required, and I welcome all suggestions.
If you find this site interesting, please share it around to anyone else you think might enjoy it – particularly people whose stories might become part of the conversation here at The Rest of Your Life.
Add to Google +